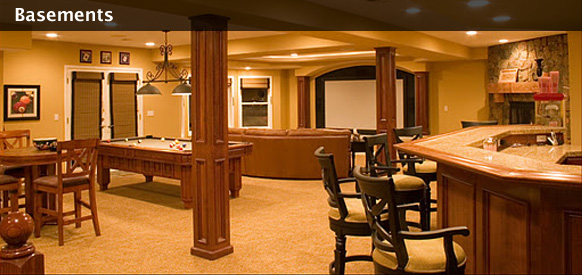 The Rooms of Your Home
Many homeowners are seeking new ways to add livable space to their homes that will not only add to the functionality of the home, but also add to the resale value of the home. According to the National Association of Realtors, a basement remodeling project generates a 70% return on investment which is the single most profitable interior remodeling project. Room additions show a 62.5% return on average.
Room Opportunities in Your Home
While basement remodeling and room additions can have a major impact on the value of your home, so can smaller scale projects. Reliable Home Services offers a variety of room renovations including home theaters, loft and bedroom conversions, attic conversions, dining room conversions, libraries and much more. Orchestrating the complexities of the remodeling process is important for timely completion. Reliable Home Services handles everything including carpentry, electrical, plumbing, HVAC, insulation, drywall, painting and flooring so you don't have to!
Remodeling Your Home
Reliable Home Services has built their reputation on delivering exceptional value, and on keeping their promises. Remodeling your home can be a challenging process, because it can significantly disrupt your lifestyle. Choosing a full-service remodeling contractor that can minimize the impact that a remodeling project has on your family is critical. You need a general contractor and trades people that you can trust in your home and that have your best interests in mind. Make sure that you check references and third-party verified testimonials before inviting any contractor into your home. Reliable Home Services is not only licensed and registered in the communities they serve, but also bonded and insured for your peace of mind. Contact them today for a free consultation!
Gallery
* Click Image to Enlarge