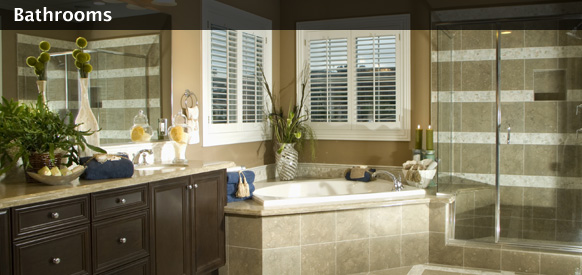 Your Bathroom
Your bathrooms are some of the most important spaces of your home, both in terms of functionality and in terms of how they impact your home's value. Bathrooms comprise some of the most expensive square footage in your home, and for good reason. The conveniences we enjoy in our bathrooms comes from a careful orchestration of plumbing, electrical, ventilation, decorative materials and fixtures, all working in harmony. When these systems deteriorate or break down, you feel the impact immediately.
Designing Your Bathroom
A good bathroom design is imperative. Reliable Home Services can help you optimize your bathroom so that it meets the specific requirements of you and your family while adding value to your home. From shower conversions to custom cabinetry and fixtures, studies have shown that you will recoup 64% of your investment when renovating your bathroom.
The Science in Your Bathroom
Because a significant amount of water management is taking place in your bathrooms, it is critical that you choose a remodeling expert that understands today's cutting-edge technologies and best practices when renovating your bathroom. Most of the mold contamination cases in homes today are associated with the bathroom, specifically tubs and showers. Hiring a remolding and renovation expert that is focused on best practices and stays current with the advancements in technology is imperative for the safety of your family!
Remodeling Your Bathroom
Reliable Home Services has built their reputation on delivering exceptional value, and on keeping their promises. Remodeling your bathroom, can be a challenging process, because the bathroom is part of everyone's daily routines. Choosing a full-service remodeling contractor that can minimize the impact that a bathroom remodeling project has on your family is critical. You need a general contractor and trades people that you can trust in your home and that have your best interests in mind. Make sure that you check references and third-party verified testimonials before inviting any contractor into your home. Reliable Home Services is not only licensed and registered in the communities they serve, but also bonded and insured for your peace of mind. Contact them today for a free consultation!
Gallery
* Click Image to Enlarge