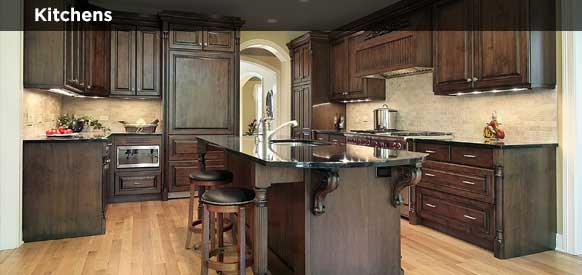 Your Kitchen
The kitchen is often referred to as the heart of the home. Whether entertaining family and friends, preparing a good meal or just grabbing a snack, you spend a lot of time in your kitchen. A well designed kitchen will not only add to the value of your home, but can offer hours of enjoyment for you and your family.
Designing Your Kitchen
When embarking on a kitchen remodeling project, it is important to begin with a great design. Choosing a kitchen design expert is the critical first step in the remodeling process. Professional kitchen designers are trained to examine your kitchen space not only in terms of beauty and appearance, but also in terms of functionality and traffic flow. Reliable Home Services has partnered with Cabinet Solutions Design Studio of Crystal Lake to ensure that this important first step in your kitchen remodeling process is not overlooked. Best of all, this service is provided free of charge!
Choosing Your Kitchen
During the design phase, you will have an opportunity to consider many of the components that will make your dream kitchen a reality. Reliable Home Services and Cabinet Solutions Design Studio understand that each client has a specific budget in mind as they navigate the myriad of product choices for their kitchen remodeling project. That is why they offer a variety of kitchen cabinet lines from which to choose. From high-quality imported cabinet lines that can beat warehouse store pricing, to hand-crafted furniture lines made by the finest American cabinet craftsmen, they offer six different cabinet lines to fit your remodeling budget. They even offer one of the most creative refinishing solutions in the market today should you decide to keep your existing cabinetry. Countertop options include, natural stones, marble, recycled glass, laminates and so much more!
Remodeling Your Kitchen
Reliable Home Services has built their reputation on delivering exceptional value, and on keeping their promises. Remodeling your kitchen, can be a challenging process, because the kitchen is at the heart of your home. Choosing a full-service remodeling contractor that can minimize the impact that a kitchen remodeling project has on your family is critical. You need a general contractor and trades people that you can trust in your home and that have your best interests in mind. Make sure that you check references and third-party verified testimonials before inviting any contractor into your home. Reliable Home Services is not only licensed and registered in the communities they serve, but also bonded and insured for your peace of mind. Contact them today for a free consultation!
Gallery
* Click Image to Enlarge