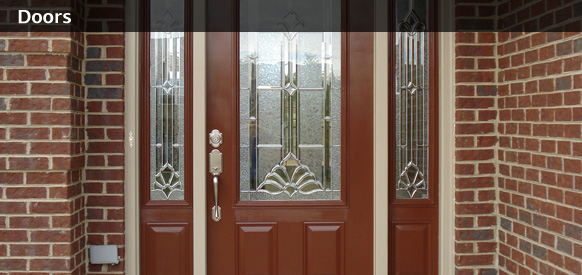 The Doors of Your Home
Although you probably don't think about it much, the doors in your home serve some very important functions, security and privacy being the two most important. The average home has more than 12 doors and whether we realize it or not, these doors can have a significant impact on the appearance and safety of the home.
The Entry Doors
The entry doors of your home are the most important for your family's security. A door that is properly installed should be able to resist unwanted entry as well as protecting the home from the elements. The front entry door of your home also acts as a centerpiece of the home and makes a quality statement about the home. Advancements in technology have brought us a number of great choices in entry doors. Materials like steel, aluminum and fiberglass are being used to make entry systems that can last the lifetime of the home. The introduction of rot-proof door frame materials has also made a major difference in the durability of today's entry systems.
The Interior Doors and Trims
Interior door replacement is one of the most overlooked renovation options in the home. Many homeowners do not realize that simply replacing just the door panels (or slabs) can have a substantial impact on the appearance of the interior of your home. Adding wider casings, taller base moldings and even crown moldings can add a richness to the home that the original builder did not provide. Other popular projects include wrapping existing vinyl windows with casing and adding French doors to enclose dining rooms, offices or other spaces.
Door Installers
Reliable Home Services has built their reputation on delivering exceptional value, and on keeping their promises. Proper door installation and replacement can only be had by dealing with experienced and well-educated installers that understand the science of proper door installation. You need a contractor that you can trust in your home and that have your best interests in mind. Make sure that you check references and third-party verified testimonials before inviting any contractor into your home. Reliable Home Services is not only licensed and registered in the communities they serve, but also bonded and insured for your peace of mind. Contact them today for a free consultation!
Gallery
* Click Image to Enlarge